Worship with us in-person at 10 am on Miami Road or join us online.
Share your comments, prayer requests and mark your presence with a Digital Connect Card
I am a Myers Briggs introvert. I acquire my energy through moments of quiet reflection and reading. I enjoy being alone. Don't get me wrong. I love being with people. However, I am spiritually, emotionally, and physically recharged when I am by myself.
Read more...
---
[My people] insist on turning away from me. They will cry out because of the yoke that is on them, but no one will lift it from them. "How can I give you up, Israel? How can I abandon you? Could I ever destroy you as I did Admah, or treat you as I did Zeboiim? My heart will not let me do it! My love for you is too strong. Hosea 11:7-8, GNT
My wife is a patient person. I give her frequent opportunities to put this virtue into practice. Practice does make perfect, so the saying goes.
Read more...
---
The next day Jesus wanted to go into Galilee, and he found Philip. Jesus said to him, "Follow me." Philip was from Bethsaida, the hometown of Andrew and Peter. Philip found Nathanael and said to him, "We have found the one Moses wrote about in the Law and the Prophets: Jesus, Joseph's son, from Nazareth." Nathanael responded, "Can anything from Nazareth be good?" Philip said, "Come and see" (John 1:43-46, MSG).
Phillip intrigues me. On one hand, Phillip becomes one of Jesus' disciples without hesitation. Phillip possesses enough confidence in Jesus to introduce his friend, Nathaniel, to Jesus.
Read more...
---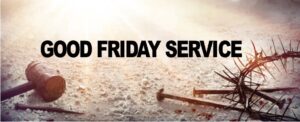 Spend time in our sanctuary "anytime" between Noon
and 3:00 P.M. reflecting on Jesus' seven last words.
This is a self-guided reflection.
As you reflect through scripture, soft music,
Holy Communion, and through a message of hope,
remember this:
Jesus' death was tragic, but it was not the end!
---