"Coping With COVID" is the title of an
interactive virtual workshop
scheduled for 5-6 PM Sunday, Oct. 17, focusing on mental health and anxiety during the global pandemic.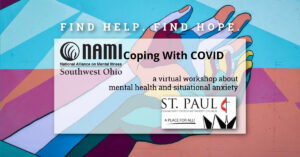 Although callers will be able to view the hour-long Zoom discussion from across Southwest Ohio, the program will emanate from St. Paul Community UMC of Madeira.
The program will be led by a team including Dr. Micelle Maegly, a local psychologist who specializes in anxiety and depression.
It was organized under the leadership of Julia Saldanha, Director of Programs for NAMI Southwest Ohio.
"Individuals may be particularly susceptible to anxiety in a world where they have little control," she said. "as the pandemic continues, everyone needs help adjusting to a new normal, whatever that may be."
To register, contact smccuchen.mani@outlook.com or ugcnomi.nami@outlook.com or (513) 378-7049 or (513) 830-5114. Meeting ID: 833-7914-2194; pass code 541245.